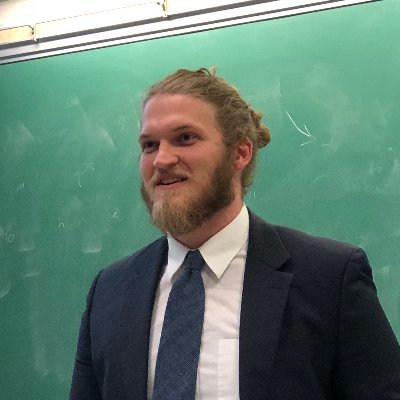 Sample Student Comments (Summer 2022)
-"The instructor wrote amazing feedback on many graded assignments, making it easy to improve and further my writing abilities"

-"Matthew was excellent, patient, and understanding"

-"This course was … one of the best courses I have had at UNC … We applied all concepts through conversation"

-"The professor is a key strength of this course. Professor Young provided insightful and helpful feedback, especially on my writing."

-"Great lectures, well organized slides, interesting material, reasonable assignments and expectations, very considerate of student well-being"

-"Great way to study theoretical and philosophical concepts. Opens your mind, encourages critical thinking and stepping outside of your comfort zone"

-"Empathetic, kind, thoughtful, knowledgeable"

-"Very approachable and down-to-earth"

-"He is patient, open, engaging, and well-versed in his subject"

-"Very intelligent and engaging, promotes discussion, makes you think critically"


Fall 2021
-"Matt truly cares about his students … He is enthusiastic about teaching and passionate about the subject which makes learning the material that much more easier and enjoyable. He is not a professor yet, but he's better at teaching than most "professors" at UNC I've studied under. His knowledge of the material and the way he challenged our assumptions about the various course topics was unmatched. Matt is simply one of the best."

-"Matt is truly one of the best facilitators of learning I've ever had the privilege of studying under."

-"Matthew Young is an incredible instructor"

-"Mr. Young made it obvious that he cares about both the subject matter of the course and the students."

-"Prof. Young was one of, if not the, best professors I have ever had at UNC."

-"Matt is among the best instructors I have had the privilege of learning from at UNC. If I could take a part 2 to this class with Matt, I would in an instant."

-"Professor Young is exceptional. You can tell he truly cared for his students, in addition to the material. … Overall, he was incredibly fair and treated us like adults."

-"Matt really made me feel like he cared not just about my academic achievements but also about me as a person."

-"Matt was perhaps one of the best instructors I have had at Carolina."



My Teaching Philosophy

I aim to guide students as they improve their knowledge of key concepts in political life, develop important skills, and connect the study of politics to their own practice of politics. In my courses, I strive to engage students by connecting the study of politics to pressing political and moral issues, assist them as they learn to critically evaluate their own political instincts, beliefs, and commitments, and come alongside them as they develop their capacity to act as reflective and responsible democratic citizens.
I use the Socratic method to guide students as they engage with critical questions across the history of political thought and contemporary politics. I am committed to cultivating an intellectual environment of open inquiry that welcomes a diversity of backgrounds, perspectives, and perspectives. Under these conditions, students feel free to disagree with me and their classmates – and even themselves – as they wrestle with complicated questions and ideas. Students regularly comment on this feature of my classes, emphasizing that I both "promote a climate of mutual respect" and "emphasize critical thinking" with a median rating of 5/5 in each category across all terms. Students have responded well to my pedagogical approach, nominating and selecting me to receive a competitive campus-wide Student Undergraduate Teaching And Staff Award, placing me in the top 0.5% of instructors at Carolina.
I have experience with courses across multiple subfields of political science in traditional, condensed, and online learning formats, including courses in Modern Political Thought, American Political Thought, International Relations, the Ethics of Peace, War, and Defense, and Civil Liberties. I have completed additional graduate coursework in judicial politics and law, American politics, public policy, and research methods. I am prepared to offer introductory and advanced courses in historical and contemporary political theory, American politics, constitutional law and judicial politics, public policy, political economy, and international relations. I am happy to fill departmental instructional needs across my areas of competence, as well as developing writing-intensive classes, first-year seminars, service learning courses, interdisciplinary courses on politics and religion or wealth and inequality, and to offer courses related to my research interests, including utopian and dystopian political thought, political ethics, inequality, and toleration.
A full statement of my teaching philosophy, sample syllabi and a summary of teaching evaluations are available here. Unabridged evaluations and additional teaching materials are available upon request.
Teaching Experience
As Instructor of Record:
Constitutional Law in the American Political Tradition" (Duke, Spring 2023)
First Year Seminar: "How to Think in an Age of Political Polarization" (Duke, Fall 2022)
Modern Political Thought (UNC, Summer 2022)
The Ethics of Peace, War, and Defense (UNC, Summer 2022)
The Ethics of Peace, War, and Defense (UNC, Fall 2021)
American Political Thought (UNC, Summer 2021)
American Political Thought (UNC, Spring 2021)
American Political Thought (UNC, Fall 2020)
Modern Political Thought (UNC, Summer 2020)
Modern Political Thought (UNC, Fall 2019)

As Teaching Assistant:
Modern Political Thought (Spring 2020, with Matthew Weidenfeld)*
* This course used an innovative real-time role-playing game to increase student engagement and improve learning outcomes.
International Relations (Fall 2018, with Navin Bapat)
Civil Liberties (Fall 2018, with Kevin McGuire)
Modern Political Thought (Spring 2019, with Jeff Spinner-Halev)
Modern Political Thought (Spring 2018, with Stephen Leonard)
Teaching Interests
American political thought and American political development
Constitutional law and civil liberties
Public policy (particularly urbanism and agricultural policy).
The history of political thought (ancient, medieval, and modern)
Contemporary theories of justice
American politics
Toleration and the politics of pluralism
The theory and ethics of international relations
Religion and politics
International political economy; inequality.
Democratic theory